Seminar:
IFRS 9 – Impairment of financial instruments
Osnovne informacije
Kotizacija: 700 EUR brez DDV, vključuje strokovni material.
Trajanje: 9.00 - 16.00
Termin
Število razpoložljivih seminarjev: 1
Naslednji termin: 17.5.2021 - 18.5.2021
Lokacija: V živo prek spleta
Termini in prijava - IFRS 9 – Impairment of financial instruments
Prosta mesta še na voljo.
Na voljo le omejeno število mest.
Ta termin je žal razprodan.
Potrjena izvedba.
Vsebina izobraževanja - IFRS 9 – Impairment of financial instruments
Scope of impairment requirements
General overview of the requirements – depiction of 3 stages
Criterion of significant increase in credit risk + detailed description of assessment principles, individual vs collective assessment and practical expedients
Requirements for measurement of 12-month and lifetime expected losses + explanation of models commonly used in practice
Application to off-balance sheet exposures – loan commitments and financial guarantees
Specific requirements for revolving credit facilities
Forward looking adjustments of expected credit losses
Credit impaired financial assets - Stage 3
Modifications of cash flows (restructurings)
Application to financial assets measured at fair value through OCI
Accounting for reclassifications and related changes in impairment
Exceptions from the general model – recognition of lifetime expected losses from inception for specific types of assets,
Special requirements for purchased or originated credit impaired (POCI) assets and interactions with derecognition requirements
Requirements for presentation in the financial statements
Detailed requirements for disclosures of expected credit losses including disclosure examples
Outcomes of discussions by ITG (Impairment Transition Resource Group) organised by the IASB
Practical application issues – calculation of PDs, LGDs, EADs, discount factors, adjustments of values used for regulatory purposes, derivation of long-term PDs based on short-term period observations + calculation examples
Discussion of implementation issues
After completing the training the participants will understand
assessment of significant increases of credit risk which distinguishes whether the impairment is measured based on 12-month or lifetime expected credit losses
measurement of the expected credit losses including models commonly used in practice
special areas of impairment requirements such as POCI, modification of financial assets including leeway to affect the extent of POCI in the balance sheet – specific rules applicable to revolving facilities
disclosures of credit risk for financial instruments based on practical examples
Opis - IFRS 9 – Impairment of financial instruments
The training is focused on a comprehensive explanation of the IFRS 9 model for impairment of financial instruments which is based on expected credit losses. It describes requirements for assessment of significant credit risk deterioration as a distinguishing factor for booking the impairment based on 12-month or lifetime expected credit losses. Much space is dedicated to models for measuring the expected credit losses. Also special areas of impairment such as POCI, modifications of financial assets and disclosure requirements are explained.
Kontaktna oseba

Jana Ursiny


jana.ursiny@dashofer.si


+386 (0)40 716 896
Ciljna skupina - IFRS 9 – Impairment of financial instruments
At banks and other financial institutions mainly employees at following departments: accounting, reporting, risk management, treasury, ALM, back office, middle office, controlling, internal audit, financial analyses of IFRS statements of customers
At non-financial companies mainly employees at following departments: accounting, reporting, risk management, controlling, cash management, internal audit
Audit firms
Supervisors and enforcers in the area of financial institutions accounting
Imate vprašanja o seminarju?
Z veseljem vam pomagamo!
Predavatelj - IFRS 9 – Impairment of financial instruments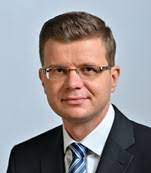 Martin Svitek
graduated from University of Economics in Bratislava, Slovakia in 1999. He continued with postgraduate study during which he was teaching courses on accounting in banking and finance. In 2004 he switched to banking practice and has been working as an IFRS expert since. His main focus are financial instruments. Most of the time he has been employed by Erste Group in Vienna. In 2014 he joined EFRAG in Brussels where he spent two years.
He was a representative of Slovakia in the Accounts Committee of European Banking Federation. Currently he is a member of Accounting and Audit Committee of European Savings Banks Group.
From 2008 his professional activities have been extended by providing trainings which are focused on the area of financial instruments under IFRS. Between 2008 and 2014 he was an external trainer for BPP Professional Education, branches in Bratislava and Prague. Since 2013 he has been cooperating with Verlag Dashöfer. His country experience includes Belgium, China, Czech Republic, Mauritius, Slovakia and Slovenia. From 2012 the trainings have been covered by his company AFIT, s.r.o.
He is author of books Financial Instruments under IFRS/IAS (2008), Capital of Commercial Banks (2006) as well as of many articles on accounting, finance and banking.
Časovni razpored - IFRS 9 – Impairment of financial instruments
09:00 – 10:30 lecture
10:30 – 10:45 break
10:45 – 12:00 lecture
12:00 – 13:00 break
13:00 – 13:50 lecture
13:50 – 14:00 break
14:00 – 16:00 Q&A, discussion